Narthex: Contents
---
These Essays were also published as a Book entitled
"Is It So?"
in September 2011.
The book can be downloaded in the pdf format
HERE
---
The aims of faithful fool.org
What is this website all about? What does its name mean?
The term «faithful» indicates that its object is to examine faithfully and honestly the words and deeds of our Lord Jesus Christ as found in the Gospels so as to understand as well as possible what God told us in His Son.
The term «fool» indicates that anyone who actually follows the message of our Lord Jesus Christ is a fool in this world order's eyes. Indeed, Paul clearly states in his first letter to the Corinthians:
For the preaching of the cross is to them that perish foolishness; but unto us which are saved it is the power of God. For it is written, I will destroy the wisdom of the wise, and will bring to nothing the understanding of the prudent. Where is the wise? where is the scribe? where is the disputer of this world? hath not God made foolish the wisdom of this world? For after that in the wisdom of God the world by wisdom knew not God, it pleased God by the foolishness of preaching to save them that believe. For the Jews require a sign, and the Greeks seek after wisdom: But we preach Christ crucified, unto the Jews a stumblingblock, and unto the Greeks foolishness; But unto them which are called, both Jews and Greeks, Christ the power of God, and the wisdom of God. Because the foolishness of God is wiser than men; and the weakness of God is stronger than men. (1 Cor1:18-25)
Jesus' message and life are foolishness as He let Himself be tortured and killed, without in any way trying to save Himself; as He preached non-violence and love of those who are said to be enemies; as He preached God Father, the One Who loves perfectly and equally each and everyone of us, whether we are war criminals, torturers, child abusers, mass murderers, rapists, victims or saints!
Jesus' crucifixion is a «stumblingblock» for those who believe in a God Who looks after His own faithful followers, Who definitely protects them against their enemies as He definitely did not save Jesus from the shame and torture of the Cross, but let Him go to His death just like He did with the millions of victims of the shoah.
Jesus' crucifixion is foolishness for those who believe in self-defense, in just wars. We do think that we know better: we know that we have to protect our family against enemies in and out of our country like our leaders repeat to us time and time again. It is wisely that we believe in democracy, the right of ownership and justice under the law. Like our leaders, we know what is right, just and wise.
Unfortunately, if God Father did not protect His Son's life, it follows that we cannot protect that of our spouses and children as we have to follow His example if we claim to be Christians. This means that we as Christians have no choice but to practice non-violence and to love those who oppress us.
Feast of Saint Andrew, November 30th, 2004
---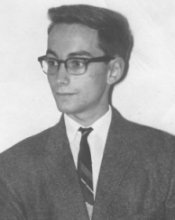 The author
Graduating summa cum laude from Collège Jean-de-Brébeuf in Montréal, Canada, Jacques Beaulieu did a Honours degree in Physics at Université de Montréal before going to Oxford as a Rhodes Scholar. Attached to the Oxford Engineering Department and junior member of Corpus Christi College, he did research in Electrical Plasma Physics at the United Kingdom Atomic Energy Authority's Culham Laboratory.
He found the hard way that something published in the scientific litterature by professors from well-respected institutions is not necessary true. This forced him to take the time to check other people's works rather than take them for granted. He applied this to his teaching of physics, going back to the sources and checking how the experiments were conducted. This same careful scrutiny is also applied here in his research on the Gospels.
While in Oxford, he met Linda Nadin, a Catholic Convert who had completed a B.A. in English Litterature at Oxford's St Anne's College and was working at the Bodleian Library. They married at the Oxford Chaplaincy. Together they moved to Montréal where he taught at Brébeuf College. They have three sons. They now have lived for more than twenty years in the Montréal Borough of Mercier-Hochelaga-Maisonneuve and are members of the Roman Catholic Parish of Saint Aloysius, Archdiocese of Montréal.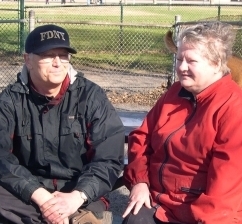 After nearly thirty years of teaching, he took early retirement and focused on theology, a subject that had fascinated him all his life. Life, Love and Law is his first book. He brings to this subject a scientific mind and a down-to-earth view.
He prefers common sense to scholarly authority, logic to tradition. When the need arises, he goes back to the original Greek Gospel text but without the usual preconceived translations that have stiffled any fresh reading of these familiar texts. He sees the Gospels as straighforward rather than mystical, as forming a very coherent whole rather than a set of somewhat unrelated ideas.
James Alison's work not only convinced him of the need of a fresh reading of the Gospels but sowed the seed of some of the ideas found in his book Life, Love and Law.
He is also much interested in Genealogy and Québec History. His work on these subjects as two of his Physics textbooks are available at